This user manual is designed to help regular users and guides alike to sign onto the application and start using the Fi$hFin app.
For instructions on how to become a guide, click on this link here: https://www.fishfinapp.com/user-manual/guides-account-setup-manual/
Download and Installation
To use the Fi$hFin app, you will first need to download the mobile application.
The mobile app is available on both iOS and Android. You can download the app here:
Fi$hFin iOS app: https://apps.apple.com/us/app/fishfin/id1613141668
Fi$hFin Android app: https://play.google.com/store/apps/details?id=com.fishfin.app
Once you have downloaded the application, install it.
Both the download and installation should only take a few moments.
Splash and Onboarding
Once you have installed the application, it should open by itself. If not, then you can open the application by tapping on the app icon. After you open the application, you will first see the splash screen with Fi$hFin animation.
Afterwards, you will be presented a quick onboarding of the application letting you know all the different features. You can choose to tap on the Skip button and move forward or tap on the Next button until the onboarding ends.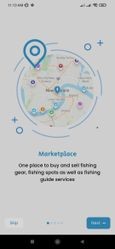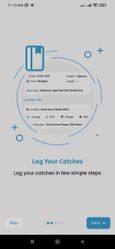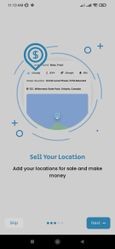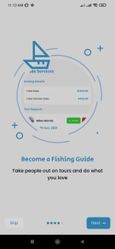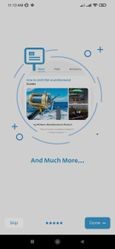 Sign In
After the onboarding ends, you will then be directed to the Sign In screen. If you already have an account, you can select your country code, enter your phone number and tap on the Login button to move forward.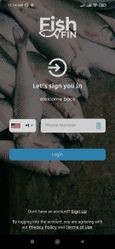 If you don't have an account, you can tap on the Sign Up link below to be directed to then Sign Up screen.
Sign Up
To Sign Up on Fi$hFin, you will need to complete the following steps:
Step 1: Enter your phone number
Select your country code and enter your phone number. Once you're done, you can tap on the Register button to move forward.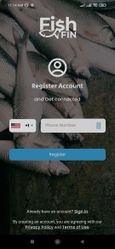 Note: If you have already have a profile on Fi$hFin, you will not need to make a separate account for a guide. Instead, you can tap on the Sign In link at the bottom of the screen to move forward.
Step 2: Enter OTP (One Time Password)
Once you have entered your phone number, you will then be sent an OTP on the phone number you had previously submitted. Enter that OTP and move forward.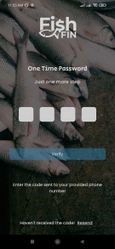 If you have not received an OTP, tap on the Resent link at the bottom to get an alternate OTP.
Step 3: Complete your user profile
Once you have entered the OTP, you will be directed to a new screen where you can simply enter your Name, your email address and even a picture.
To upload or take a picture, tap on the camera button to do so.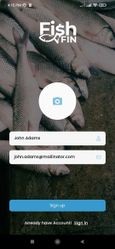 Once you're done, tap on the Sign Up button to complete the Sign Up process.
Preferences
Once your complete the Sign Up process, the application will ask your for your preferences in terms of the fishes you like, locations you are interested in as well as gear that you might want to look out for. You can add the ones you like or skip this for now.
You can always update your preferences later.
Permissions
To function as intended, Fi$hFin like other mobile applications needs a number of user permissions.
The most crucial is the location permission. Tap on the Next button and enable location permissions as per your discretion.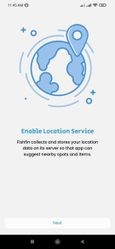 Sell your location, start a tour guide business, sell fishing gear, are just some of the things that you can do with the Fi$hfin app.
Mobile App Coming Soon